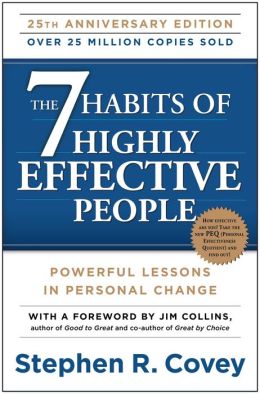 Read this book if want to:
be pro active instead of re active
center on what makes you happy
be in control
create win / win situations
understand yourself and others
understand synergy
plan your renewal
Habits consist of knowledge (what to, why to), desire (want to) and skills (how to). Habits can make or break your life. To create empowering habits you need to re-script yourself. This book will give you the knowledge you need to do just that.
Habit 1
You're the creator. Based on imagination, conscience, independent will, self-awareness. In every situation you can choose your reaction; there is a small gap. Then there is the circle of influence and the concerns outside of your influence.
Habit 2
Imagination — visualisation to start with the end in mind. Make sure that you imagine what you want. Personal mission statement, actions and roles. Affirm yourself with statements that are personal, positive, present-tense, visual and emotional.
Habit 3
First things first. Things can be urgent and important, urgent but not important, not important but urgent and not important and not urgent. Choose to work on the things that are urgent and important to make a large impact. The balance between results and the capacity to create those results; P/PC.
Habit 4
Win win. Win win is a philosophy of human interaction. Win win is a situation where everyone who is involved benefits. The dimensions of win win are character (integrity, maturity, abundance mentality), relationships, (performance) agreements, systems and processes.
Habit 5
Understand the other before you try to be understood. Understand the differences between empathic, autobiographical, and pretended listening. Diagnose before you subscribe and understand your responses in relation to evaluation, advisement, interpretation and probing.
Habit 6
Synergy is the highest activity in all life—the true test and manifestation of all of the other habits put together. Principle leadership at it's core.The whole is greater than it's parts. Synergy means growth. Growth means change. It's the restraining forces versus the driving forces.
Habit 7
Renewal is important to keep you fit. Fit in a physical, social/emotional, spiritual and mental way.
Check on Amazon